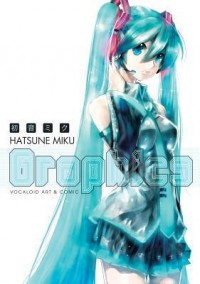 As soon as I saw that Diamond Book Distributors put this book into the "Read Now" section of NetGalley I just knew I had to read it.

It isn't a well-known fact among my friends but the truth is I'm an avid reader of manga, lover of manga, and an otaku at heart. Vocaloid brings back so many memories of when I'd talk about it with my friends several years back and picking this up brought back a wave of beautiful nostalgia which was paired with the equally beautiful illustrations and adorable story about the Torabotic World, followed by a squeal-worthy mini comic by Nagimiso which was by far my most favourite part of the whole thing.

The book not only captures the feeling of Vocaloid perfectly but also has a good, wide range of artists who have dedicated artwork to the subject. Everything is neatly labelled, and for extra curious fans there are things like CD cover art and mentions of various softwares and short, interesting bios of the main Vocaloids. It was an absolutely pleasurable light read that was just what I needed lately. It's a book many will surely fall in love with.