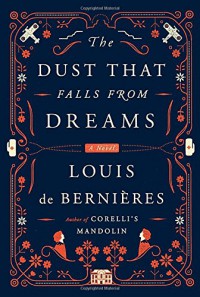 Thank you to Knopf Canada for providing me with an arc of the book to review.
I can't do it. I tried. I really swear I tried. But it's been three weeks or so since I've picked this book up and I have had such a struggle with it That I'm calling it quits on chapter 51 (page 213, or about 42% of the way in). I've really forced myself to read as much as I have and didn't really enjoy myself in the process, so I think it's now come to the point where I'm beating a dead horse.
There isn't much I can say about "The Dust that Falls from Dreams" other than its really lengthy and dry with characters that are almost impossible to connect to. I was reminded once again why I usually avoid books of this genre, why the mention of them makes me raise an eyebrow. It was probably true to the time period, especially judging from the very annoying character of Mrs. McCosh, and for people who understand and value that it'll be a good sign. However I was more in it for the characters, having been promised an emotional story that I didn't really see, beyond Rosie's brief grief that simmered down just as fast as it ignited. It was also a bit graphic and dark in a couple places, more than I expected it to be, so it should be put out there for future/potential readers as a possible warning in case that isn't what they want to read about.
I don't know what else to say because of how uninvolved a read it was. I couldn't care for the characters at all, only Rosie who triggered some kind of sympathy on my part. The story was going absolutely nowhere and was flat in both description and dialogue, often to the point where I closed the book and dreaded touching it for a whole day before forcing myself to pick it up again. I definitely won't recommend it but in case if anyone thinks they have more patience then I wish them better luck than me. I didn't have any reaction to the book beyond boredom – it was too forgettable and dull to even muster up a feeling of strong dislike, which says a lot.